Content
October 20, 2007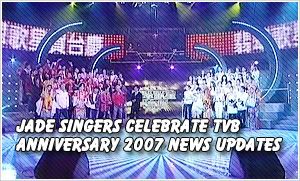 I just read the news today from MingPao relating to this year's "Jade Singers Celebrate TVB Anniversary", and I really want to blog about it. TVB held a press conference and promotion event yesterday and revealed the details about the event. The details are as follow:
- The event will be held on November 3rd, and it will be hosted by Dodo (Carol) Cheng 鄭裕玲 and Eric Tsang 曾志偉
.
- Alan Tam 譚詠麟
and Teresa Carpio 杜麗莎 will be the captains for the male singers and female singers respectively.
- Leo Ku and Andy Hui will be the leaders for the male singers, while Miriam Yeung and Joey Yung are the leaders for the female singers.
- Many top singers will most likely be absent from the event. Kelly Chen might not attend because she did not renew her contract with TVB recently. Hacken might also be absent because he is expecting his baby around that time. As for Andy Lau, he may not be in Hong Kong during that time, while Eason Chan will be holding his concert at the coliseum that day.
- Last year's host Lui Fong will not take part this year because of a conflict in his filming schedule.
(check out the original Chinese article here:
http://hk.news.yahoo.com/071018/12/2htqq.html
)
---
My thoughts:
I am really disappointed about the fact that many top singers will miss this year's event. I was especially looking forward to the "Jade Singers" this year (since I loved last year's), but I was just treated with disappointment. I hope that those that will attend will at least put up a good show for us audience. But I definitely will not hold high hopes now...
About the allocation of team captains and leaders, I am not satisfied with the male side. Oh well...couldn't expect more since Andy, Hacken, and Eason will most likely be absent.
Labels: Jade Singers Celebrate TVB Anniversary, TVB 40th Anniversary