Content
November 12, 2006


TVB 39th Anniversary Awards Ceremony was successfully held Friday night, and all the awards were giving out to their new owners. Of course the winners list is out, and most people's reactions would include "surprised" in their descriptions...whatever the case is, I am going to write a somewhat "long" recap on the night's event, giving you another perspective of the event with my screen-caps and words...

here we begin...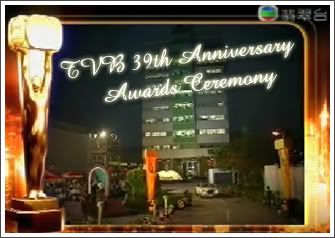 The night began with TVB stars arriving and walking across the red carpet. Most appeared in groups of four, similar to last year's event.




As the camera brought us to the interior of Studio 1, our MC of the night Dodo (Carol) Cheng was standing in the center of the stage waiting. After her welcoming speech, she presented a group of TVB artists who played a song as an orchestra together. Stars part of the orchestra included, Vivien Yeo (Piano), Astrid Chan (Electronic Piano), Charles Szeto (E. Piano), Mak Nga Gi (E. Piano), Chik Doi Doi (Guita), Law Mong (Guitar), Tang Chi Fung (Guitar), Vin Choi (Guitar), Heidi Chu (Flute), Leanne Li (Flute), Erica Yuan (Violin), and Tracy Yip (Violin). It was a creative idea for TVB to ask TVB stars to perform music. And overall, their performance was average.



As the music was playing, the awards contestants of the night entered the studio by pairs. One thing to notice is Kevin and Charmaine came out together. Perhaps this was TVB's intention of showing us early who's would eventually be the winners for "Best Actor" and "Best Actress"...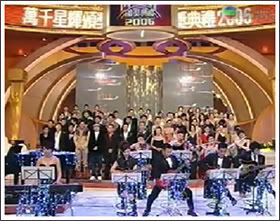 Sure took sometime for everyone to come out. And when they finally settled in their seats at the side of the center stage, the night of recognition officialy began. This year, there are really three parts to the stage. The left side was the sitting areas for TVB stars, while the centers stage was for performance and presenting awards. As for the mini right side was a place when Dodo (Carol) Cheng stood at most of the night.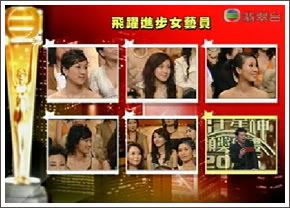 The first award presented for the night was "Most Improved Actress Award". Michael Miu was the award presenter, and he did a little advertisement for his new series "Dicey Business" to be aired on November 20th (the day after Anniversary). The final top 5 for "Most Improved Actress Award" included Linda Chung, Selena Li, Tavia Yeung, Leila Tong, and Natalie Tong.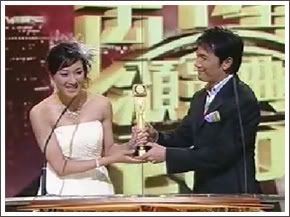 The winner was Linda Chung. Her acceptance speech included, "Thanks Brother Three (Michael). Thank you TVB, Catherine Tsang, Tommy Leung, Virginia Lok, Pui Wa for giving me a lot of opportunities. Thanks to my parents for supporting me, my brother and sister for caring me. Thanks to my friends in Vancouver and Hong Kong. Thanks to my fans. I know I still have a lot of things to be improved on. I will continue to work hard. Thank you!" Overall, she looked really calm and composed.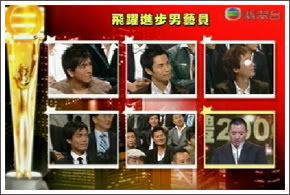 Next up was "Most Improved Actor Award". Dou Man Chak (the actor who played Sau Keung in Infernal Affairs) was the award presenter. He talked about his award he accepted from a Germany awards ceremony, and the award was made of ice. He said the "Ice Award" had melted after he reached his hotel room. The "Ice Award" was to symbolize that awards recipients should forget about their awards as soon as possible since they have to continue to work hard and try to get another award in the future. The top 5 for "Most Improved Actor" included Kenneth Ma, Kevin Cheng, Steven Ma, Michael Tze, Kenny Wong.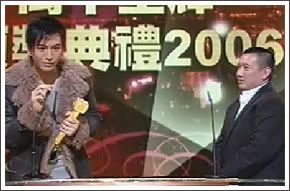 Dou Man Chak made fun of Ronald Cheng before he said Kenneth's name. Kenneth was really shocked and surprised. As he was sitting beside Ron and Bosco, the duo congratulated Kenneth at once. When Kenneth received the award from Dou Man Chak, he said, "I am really nervous tonight, not because of worrying about award, but because I have to perform an Indian dance later. I want to thank TVB, Stephen Chan, Virginia Lok, Tommy Leung. Thank you to all the producers, directors and PA for using me in their series. I want to thank all the workers in the department for costumes and make-up." Then he paused, apparently distracted by Dou Man Chak. When Kenneth resumed his speech, he stuttered for awhile before continued, "Thanks to my fans! Thanks to all my co-stars from this four series. Thanks to all who have taught me before. I especially want to thank Roger Kwok. At last, I want to thank my family, including my father, my two elder sisters and especially my mother. And I want to add that tonight is my cousin's wedding, and I can't attend his wedding. I want to wish him a 'Happy and Long-lasting Marriage!' Thank you, Thank you!"
He received the loudest and longest applauses compared to all other award recipient. (You deserve it Kenneth!)

More coming soon...=)