Content
October 10, 2007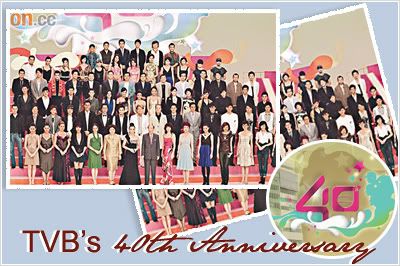 Haha…time sure flies, since TVB's 40th Anniversary will be arriving in a little more than a month. I am already super excited about all the upcoming anniversary-related shows, although I have a major exam (GMAT) on November 17th (the night of the Anniversary awards), but I am still looking forward to everything.
The Webmasters of TVB-related blogs and sites around the net are all giving out their favorites and predictions in the past few days, and more are to come. I really enjoy reading them too, but I am here to do something different though.
I just want to guess what's going to happen on the night of the "Anniversary Special" on November 19th before any confirmed news are announced.
Follow along if you want to find out what my "wild" guesses may be:

(1) Opening
I am 99.9% sure that the show will begin with Sir Run Run Shaw (Uncle Six) initiating some kind of object to light up the studio, and starting the event. As for what is he initiating this year, I guess it will be a
ruby
, because it symbolizes 40 years anniversary. (And I got that hint from the Anniversary Lighting Ceremony)
I hope that in the opening, there will be some kind of big dance like usual for all participants of the night to be a part of it. And I am guessing
one of the background song
s to be used will be originally sung by Twins. (Why? Because for the past 5 years except in 1, one of the background songs used for the openings were originally sung by Twins. For 2002 and 2003, it was 大紫大紅. In 2004, it was 夏日狂嘩. As for last year (2006), the song used was 熱浪假期. I know probably I am the only one who keeps track of this trend…lol…And if you don't believe in me, grab the older anniversaries and watch the openings…)
(2) Anchors (Hosts/Hostesses)
There are currently no indications that Lydia Shum (Fei Jie) will be back as anchor for the anniversary special. She was absent from her usual role in last year's anniversary, and this year's Children Songs Awards Ceremony. I certainly hope that she is well enough to make appearance, but I guess we have to wait and see.
My guesses on the
Hosts/Hostesses
: Liza Wang, Dodo (Carol) Cheng, Eric Tsang, Nat Chan, Tang Chi Fung, Amigo Choi, Anna Yau, and Lawrence Cheng.
(3) Anniversary Skit
Almost every year's anniversary includes a comical
anniversary skit
. I am 100% sure there will be one this year. As for what is it going to be about, here are my guesses:
- Heart of Greed
Still remember in the year of 2004 when "War of Beauty" was such a big hit, it was transformed into an anniversary skit? Do you remember how Eric Tsang, Lydia Shum, Nat Chan, Nancy Sit and Dodo Cheng all dressed up as the characters in "War of Beauty"? That's why I picked "Heart of Greed" as my first choice for the theme of the skit. I will not be surprised if TVB invite the original cast of Heart of Greed to perform a newly invented scene from the series, or ask a new group of artists to act the parts of the originals.
- Men Don't Cry
"Men Don't Cry" is one of the three anniversary series this year. Since the casts of this series had already performed in the Lighting Ceremony, I think the chance for them to do the anniversary skit is not likely. But Dayo is a perfect candidate to create some laughs, so I don't want to count this series out.
(4) DancesDances
are always key elements in each year's anniversary. I don't think there were any past anniversaries without some form of dance performances. And since "Steps" has created a buzz lately, I won't be surprise to see the casts, or someone else, follow up what they did in the Lighting Ceremony.

(5) Games
Of course as usual, TVB's artists will be broken into 2-3 groups and compete for the final grand prizes. Last year's games were based on 15/16, being one of the most successful shows produced last year. As for this year, I am guessing it will have something to do with the new entertainment show "
Foodie 2 Shoes 味分高下
" hosted by Patrick Tang and Harlem Yu. Although this show has not gathered too much successes beside it's first week of above average ratings, it does grab some media attention, especially with all the complains received from viewers about the "gross" foods the show is "feeding" the guests. I certainly hope that if they do use similar elements from "Foodie 2 Shoes," nothing gross will appear as Uncle Six will definitely be unhappy.
My other bet is for Eric Tsang or Sammy Leung to hold some kind of "past" TVB games, like "Lucky Stars" from EYT (Enjoy Yourself Tonight), Super Trio's games, or 15/16 games.
(6) Beijing Olympics 2008
In case anyone not know, the summer Olympics 2008 will be taken place in Beijing, China, in August 2008. Hong Kong is granted by China to hold all the equestrian (horses) events. TVB has already mentioned a lot about broadcasting Olympics 2008 using the new HD technology. I won't be surprise if there is a performance on the night of the Anniversary dedicated to Olympics 2008.
History has shown me that I may be right, since in 2003, Roger and Jessica were teamed up with Shek Sau, his son, and others to "demonstrate different sports" as allusions to Olympics 2004. In 1999, Vinci Wong and others did something similar as well.
***
I have just made several "predictions" to what might happen in the Anniversary Special. Not sure how many of them will I get right, but check back after the anniversary to see me grade myself! =)
(Pictures credit to
tvb.com
,
en.wikipedia.org/wiki/
,
www.on.cc
,and
youtube.com
)
Labels: Predictions, TVB 40th Anniversary