Content
August 14, 2006

Today's my birthday! Almost can't believe that I am 20 years old already! Thanks to those lovelies who have sent me birthday wishes and greetings! THANKS!!! =)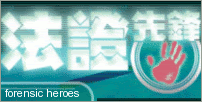 p>

Anyways, I'll celebrate with you guys with a new sheets music. This time, it features the main theme of "Forensic Heroes" sang by Frankie Lam.

Talking about the song itself, I really like the melody and lyrics, which I think match perfectly with the series. As for Frankie's performance, this is the second time I have heard him since the main theme from "The Herbalist Manual", in which Frankie didn't disappoint me. And of course this song is co-written by Tang Chi Wai. Didn't really surprise me to find out it is once again his work.

As for the score itself, this one took me some time to write, especially the beginning and the ending. The song is relatively fast, and really don't seem to go in hand with piano, but since I like the song, I decided to give it a try. And here we have the score, but I think I didn't do too good of a job.


The Score:

Page 1 -- Page 2 -- Page 3 -- Page 4 p>





Sample MP3 (not played by me, it's played by finale the software program)
>Click Here



Any suggestions/comments/criticisms are greatly welcomed! Just direct them to the tagboard or leave a comment!



PS: Currently working on "Fortunately" by Myolie, still in the middle of it...and more "Real Relationships" feature will be coming tomorrow...stay tune...and is anyone having problems with the downloads? Do tell me, okay?