Content
October 10, 2006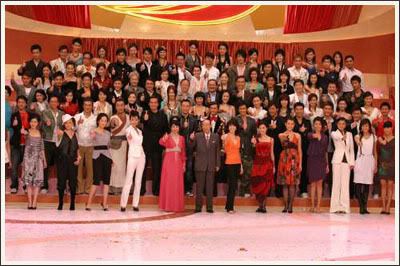 TVB 39th Anniversary Month "officially" begins today as Sir Shaw Run Run and 100 TVB artists presented in the "Lighting Ceremony". The group picture is very similar compared to last year's, with Sir Run Run in the middle, accompanied by Liza Wang and Dodo Chang at his sides. The first row is once again dominated by all actresses, with "important" actors follow closely behind in the second row. The casts from "Pearl of Orient" (Lisa Wang, Charmaine Sheh and Roger Kwok) performed a dance, while casts from "Welcome to the House" did a comedy performance. Singers like Joey Yung and Leo Ku are also presented.

And...The Slogan for this year's Anniversary is...



The English translation means: Being in front, Wonderful 39 years!



And to get things going, the voting site for "Anniversary Awards" is up! Here is the page: http://tvcity.tvb.com/special/anniversary2006/vote/

Sources: http://www.takungpao.com.hk/news/06/10/11/UL-634484.htm
http://tvbchinesenews.blogspot.com/

=)