Content
December 27, 2007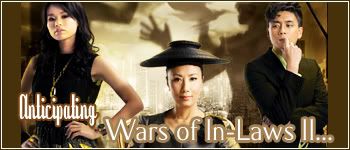 HAPPY HOLIDAYS EVERYONE!
Hope that everyone has had a wonderful Christmas! I have originally planned a lot of posts since December 1st, but I never have the time to actually write them. Oh well...
Well, part of the reasons that I never have time to devote to TVB Cafe is because of the effort I spent working on my Boscolie fansite. Some people who know me online probably know that I am a big fan of Boscolie since WOIL I. And of course I am extra excited about the upcoming series "Wars of In-Laws II"!
"Wars of In-Laws II"
is going to premiere on TVB Regular Jade Channel and TVB HD Jade Channel on January 1st at 8:30 p.m.. WOIL II will be the first hour-long TV series to be aired on TVB's HD Jade Channel. WOIL II is coming our way really soon.
I know some people are not looking forward to this series, and will even skip it. I understand the reasons too. Some people think that the first one (WOIL I) was overrated. The actings were exaggerations, while the storyline was not good. I must admit that I do not love every part of WOIL I, but this series will always be on my list of favorite TVB series. I have started to be fond of the series since its costume fitting. Not sure why, but I think I have a special bond with this series since its first days of production.
One of the reasons that I like WOIL I is of course because of the couple Bosco and Myolie. And I can't deny that fact. Of course when I found out that TVB will film a sequel to WOIL I using the original cast (Liza, Bosco and Myolie), I was super happy! I have been following all the news of the series since the day they announced the filming of this sequel. And now, my wait is almost over! =)
Here, I just want to advertise the little fansite that I made for WOIL II. I have collected news, pictures, clips, and other information pertaining to this series at here:
The War is On: Wars of In-Laws II Fansite
. If you are anticipating this series just like me, feel free to visit it! =)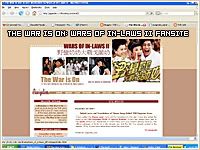 Labels: TVB Series, Wars of In-Laws II