Content
August 27, 2006

Not sure if everyone is aware of this annual event held by TVB each year, but "TVB Children Songs Award Presentation" has been a customary event takes place each year since 1991. Personally, I was a big fan of the event when I was young, and even until this date, I am still continued to be interested with the news related to the "TVB Children Festival" every summer. Since the 2006 award presentation just took place last Saturday in Hong Kong, I decide to write a feature about this event and let you all learn a little more about it. So…read on!

This Year's (2006's) Feature is…

"Journey to the East"...which came from slightly twisting the Classic Chinese Story "Journey to the West". Not entirely sure about the storyline and such since I don't watch "After School ICU" anymore, but I found out who acted which characters and such. Just look at the picture and you can see them yourself…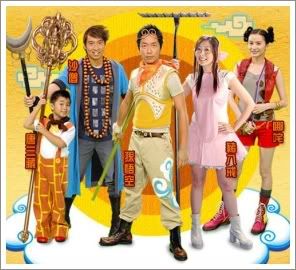 p>
Caption: From left to right, Jacky Wong, Charles Szeto, Steven Ma, Angela Tong, and the other girl that I am not sure...


For more, click here for the official website: Kids 2006



Tracing back…

Let me just give a little about the historical background. TVB has always tried to target each and every age group with its shows, and of course, the children population in Hong Kong could not be overlooked. As a result, TVB started a summer event titled "TVB Children Festival" in 1991, gathering different little events and special children shows to be displayed during June through August, and usually end the "Festival" with a grand finish, the big show named as "TVB Children Songs Award Presentation".


What's so special about it…

Just as the title suggested, the award presentation features children songs. More than thirty children songs competed in the event each year, and usually ten songs will be chosen "by the children population" and the singers who sang the songs will be awarded a trophy. The singers are usually viewed highly by the children, and the winning songs are easy reflections of what the children like about in that given year.


"Hidden Conspiracy?"…

Perhaps the best way to describe the TVB Children Songs Award Presentation is as a microcosm of the Jade Solid Gold Award Presentation, only to replace children songs with pop songs. Singers usually compete a chance to sing children songs, and when they do have a chance, the popular singers usually become the winners single-handedly. Rumors fly around each year about TVB awarding singers by TVB's own wish, instead of following the voting results. Yet another chance for TVB to give favors again, why let it slip away, right?


Fading…

I don't know if this is my personal feeling or not, but it just seemed like TVB Children Songs Award Presentation is no longer as bright as the previous years. I think the golden years belonged to the mid and late 90s, when lots of singers used to participate, including Leon Lai, Aaron Kwok, Miriam Yeung, Eason Chan, Kelly Chen, and more. It seems like the participants in recent years only consist of TVB's artists and a few singers.

Moreover, recent children songs are not as popular as before. I still remember when the songs of "Sailor Moon", "Pokemon", "Superman", etc. ruled the children world. "Bila bala, bila bala" (song lyrics) were basically a "language" of the time. The time of those days seemed like long gone…


The show of 2006…

The 2006 one just took place Saturday (August 26th) night in Hong Kong; the hostess is once again Lydia Sum (for the consecutive 9th year), accompanied by Steven Ma and Angela Tong.

And…the new winners of 2006 are…

The winning award list of 2006 is as below…(scroll down for English Translations)

10首兒歌金曲:

1. 沈穎婷 - 白雪天使
2. 李逸朗 蔣雅文 - 在校園渡假
3. 王祖藍 - 奇異冒險
4. 關智斌 - 月光光
5. 高鈞賢 - 龍王傳說
6. Twins - 光之美少女
7. 鄭嘉穎 - Keroro 軍曹
8. 馬浚偉 - 放學ICU
9. 薛家燕 王樹熹 陳靖琳 - 媽咪點解點解
10. 吳卓羲 - 超世代之戰

最受daddy mommy歡迎歌曲:
李紫昕 - 布娃娃

最佳兒歌歌曲大獎:
唐韋琪 - 健康跟住我

最佳兒歌歌詞大獎:
司徒瑞祈 - 未來之旅

兒歌金獎:
鄭嘉穎 - Keroro 軍曹

The Ten Winning Songs:
1. Snow Angel by Winnie Shum
2. Vacation at School by Don Li and Mandy Chiang
3. Special Adventure by Wong Cho Lam
4. Moon Light by Kenny Kwan
5. The Legend of the Sea King by Matthew Ko
6. Light's Girl Warriors by Twins
7. Keroro's Army March by Kevin Cheng
8. After School ICU by Steven Ma
9. Mommy, why? by Nancy Sit, Jackie Wong, and Chan Jing Lam
10. Battle of the Super Era by Ron Ng

Parents' Choice:
Doll by Purple Lee

Best Children Song:
Healthy Follow Me by Vicki Tong

Best Lyrics:
Trip to the Future by Charles Szeto

Gold Award (most votes in the ten winning songs):
Keroro's Army March by Kevin Cheng


Congratulations to Kevin for picking up the Gold Award! According to Kevin, it is his second award in his career since receiving the newbie award in his first year. But not too sure why TVB cancel the Silver and Bronze this year…as for the show itself, I haven't had a chance to watch it myself…


Looking Ahead...

So, yet another year. I read from some forums that this year's presentation lacked of surprises once again. Wonder how will TVB fare out next year? But I'm already looking forward to hear Charmaine's, and Bernice and Myolie's new children songs.

Anyways, see you next year, CSAP 2007!


PS: Sorry for the lack of updates! But school has started for me on the 22nd, and I have been busy since. I'll re-upload all the sample MP3s as soon as possible, as savefile lost all of my files...>.<...meanwhile, the progress on the new sheets music are coming slowly...but hopefully I'll finish on it soon...*sigh*...