Content
November 27, 2006

A new layout...simply need to change the old one since it's after the 39th anniversary already...I didn't have much time to work on the layout since I have four final exams this week...but hopefully it looks alright...featuring my two favorite TVB actresses...=)

I should be resuming work on the music sheets after next Thursday (my Accounting Final)...so until then...TVB Cafe will not have much updates...but stay tune...

m_s

November 19, 2006



After watching last year's anniversary, I have been anticipated for this year's anniversary for 365 days already. And now it's finally here, I want to wish TVB "Happy Birthday" of course...ah...39 years passed already since 1967's opening...

Since I have DirectTV's Jadeworld channels, I was able to see "TVB 39th Anniversary Gala" tonight through "satellite". Since awards are left out this year, everything just seemed different. It's great that the "celebration" feeling is back, but something is still missing. Personally, I have a collection of the anniversary shows dated back to 1994. I have seen anniversary shows without the awards (since awards didn't start until 1997), but back then, there were more performances and more people attended. This year's one just...I don't know...

But now that everything is passed, of course we have to look forward now. The sales presentation released today looked somewhat promising. Simply can't wait to see some of the series, and what lies ahead...

Before I end this post, I'll include some pictures from today's anniversary gala show that I found quite representative. And also as a preview, I will be writing an article comparing this year's three anniversary shows (Singers, Awards, and Gala). Coming soon!!! (oh, and new layout coming soon as well)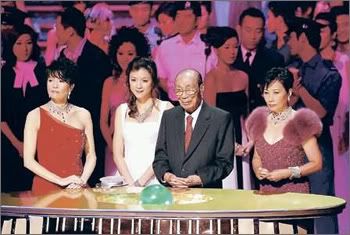 Everyone awaited the announcer to finish with the introduction...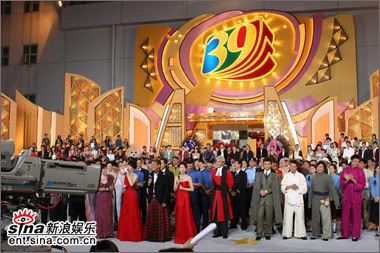 And finally...everyone came out to face the camera after the opening "dance"...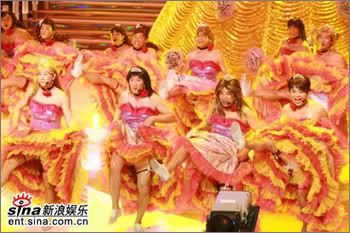 It seemed quite amusing to see ten men to dress up as women and danced, but it could be scary at the same time...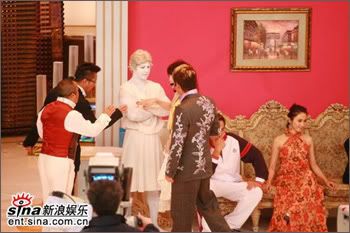 Three "unwanted" guests inside the Jade Wax Museum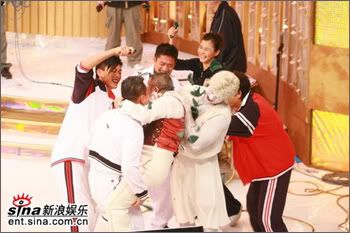 The wax statues were granted by the "God" to move around, so? It's time for revenge!!!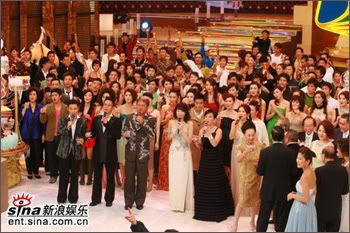 And it's time again to say goodbye! And champagne time as well!

pictures credit: http://ent.sina.com.cn/f/tvbtq39/p/index.html and http://tvbgeneration.blogspot.com

m_s =)
November 13, 2006


Taking a break from my studying as well as recaping the awards ceremony...

Yesterday, I chanced upon the scans from the most recent edition of TVB Weekly, and saw two pages that talked about the performances parts on the Anniversary night (Nov 19th).

Click on the thumbnails to see the actual scans:



Based on the scans, there will be five performances for the night:

1. "Beautiful Cooking" Anniversary edition. The contestants for the night will be Dodo (Carol) Cheng, Liza Wang, and Nancy Sit. They will be cooking all kind of expansive food like Abalone, Shark fin, etc. Bosco Wong, Kevin Cheng, Roger Kwok, and Ron Ng will be the assistant cooks, while Nat Chan and Hui Goon Man will be the judges for the night.

2. "Dances from the Men". Ten TVB actors will be doing different dance moves, and may even transform themselves into women for the dances. Participants include Eric Tsang, Lam Man Chung, Chiang Chi Kwong, Yuen Siu Cheung, Tang Chi Fung, Lai Lok Yi, Matthew Ko, Vin Choi, Charles Szeto, Kenneth Ma, and more.

3. "15/16" Anniversary edition. Eric Tsang and Nat Chan will be the hosts for this special edition "15/16", and the contestants will be the 39 actors and actresses that are chosen earlier in another drawing event.

4. "Jade Stars Museum". Several TVB stars will pretend to be "wax statues" and be criticized and picked on by Nat Chan, Eric Tsang, and Dodo (Carol) Cheng about their rumors and news. The stars are not supposed to move as they are "wax statues". The participating stars include Moses Chan, Bernice Liu, Bosco Wong, Bowie Lam, Sonijia Kwok, Kenny Wong, Gigi Lai, Yoyo Mung, Charmaine Sheh, and Myolie Wu.

5. "Drum Music Celebrating Long Life". A big group of TVB stars will be performing different drum music and rhythms to celebrate for TVB's birthday. The stars performing include: Nat Chan, Fala Chan, Kenny Wong, Tracy Yip, Chu Wai Man, Sharon Luk, Winnie Shum, and many more.


My Comments: What happened to "All About Men" vs "Lady in Red"? Could it be that the singers (like Hacken, Eason, Miriam) are not "willing" to show up, so TVB cancel the event altogether? (oh no...bad news for me...)
And what's up with Nat Chan participating in four events? I just don't like to see his arrogant face all the time...oh my...


mag scans credit to: http://post.baidu.com/f?kz=147366295 and hkangel at tvbsquare forum

m_s
November 12, 2006


TVB 39th Anniversary Awards Ceremony was successfully held Friday night, and all the awards were giving out to their new owners. Of course the winners list is out, and most people's reactions would include "surprised" in their descriptions...whatever the case is, I am going to write a somewhat "long" recap on the night's event, giving you another perspective of the event with my screen-caps and words...

here we begin...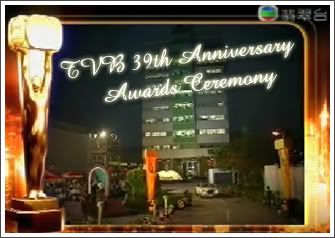 The night began with TVB stars arriving and walking across the red carpet. Most appeared in groups of four, similar to last year's event.




As the camera brought us to the interior of Studio 1, our MC of the night Dodo (Carol) Cheng was standing in the center of the stage waiting. After her welcoming speech, she presented a group of TVB artists who played a song as an orchestra together. Stars part of the orchestra included, Vivien Yeo (Piano), Astrid Chan (Electronic Piano), Charles Szeto (E. Piano), Mak Nga Gi (E. Piano), Chik Doi Doi (Guita), Law Mong (Guitar), Tang Chi Fung (Guitar), Vin Choi (Guitar), Heidi Chu (Flute), Leanne Li (Flute), Erica Yuan (Violin), and Tracy Yip (Violin). It was a creative idea for TVB to ask TVB stars to perform music. And overall, their performance was average.



As the music was playing, the awards contestants of the night entered the studio by pairs. One thing to notice is Kevin and Charmaine came out together. Perhaps this was TVB's intention of showing us early who's would eventually be the winners for "Best Actor" and "Best Actress"...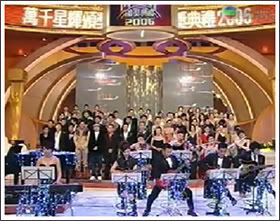 Sure took sometime for everyone to come out. And when they finally settled in their seats at the side of the center stage, the night of recognition officialy began. This year, there are really three parts to the stage. The left side was the sitting areas for TVB stars, while the centers stage was for performance and presenting awards. As for the mini right side was a place when Dodo (Carol) Cheng stood at most of the night.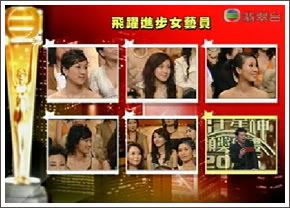 The first award presented for the night was "Most Improved Actress Award". Michael Miu was the award presenter, and he did a little advertisement for his new series "Dicey Business" to be aired on November 20th (the day after Anniversary). The final top 5 for "Most Improved Actress Award" included Linda Chung, Selena Li, Tavia Yeung, Leila Tong, and Natalie Tong.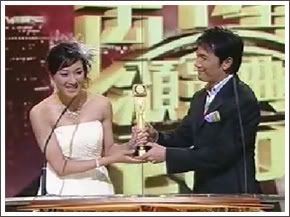 The winner was Linda Chung. Her acceptance speech included, "Thanks Brother Three (Michael). Thank you TVB, Catherine Tsang, Tommy Leung, Virginia Lok, Pui Wa for giving me a lot of opportunities. Thanks to my parents for supporting me, my brother and sister for caring me. Thanks to my friends in Vancouver and Hong Kong. Thanks to my fans. I know I still have a lot of things to be improved on. I will continue to work hard. Thank you!" Overall, she looked really calm and composed.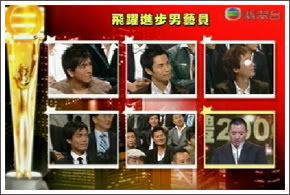 Next up was "Most Improved Actor Award". Dou Man Chak (the actor who played Sau Keung in Infernal Affairs) was the award presenter. He talked about his award he accepted from a Germany awards ceremony, and the award was made of ice. He said the "Ice Award" had melted after he reached his hotel room. The "Ice Award" was to symbolize that awards recipients should forget about their awards as soon as possible since they have to continue to work hard and try to get another award in the future. The top 5 for "Most Improved Actor" included Kenneth Ma, Kevin Cheng, Steven Ma, Michael Tze, Kenny Wong.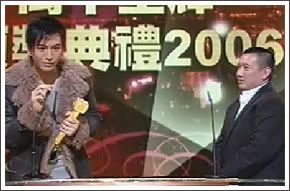 Dou Man Chak made fun of Ronald Cheng before he said Kenneth's name. Kenneth was really shocked and surprised. As he was sitting beside Ron and Bosco, the duo congratulated Kenneth at once. When Kenneth received the award from Dou Man Chak, he said, "I am really nervous tonight, not because of worrying about award, but because I have to perform an Indian dance later. I want to thank TVB, Stephen Chan, Virginia Lok, Tommy Leung. Thank you to all the producers, directors and PA for using me in their series. I want to thank all the workers in the department for costumes and make-up." Then he paused, apparently distracted by Dou Man Chak. When Kenneth resumed his speech, he stuttered for awhile before continued, "Thanks to my fans! Thanks to all my co-stars from this four series. Thanks to all who have taught me before. I especially want to thank Roger Kwok. At last, I want to thank my family, including my father, my two elder sisters and especially my mother. And I want to add that tonight is my cousin's wedding, and I can't attend his wedding. I want to wish him a 'Happy and Long-lasting Marriage!' Thank you, Thank you!"
He received the loudest and longest applauses compared to all other award recipient. (You deserve it Kenneth!)

More coming soon...=)
November 9, 2006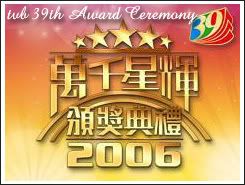 We're down to the final home stretch…anyone besides the contestants, and me are excited??? =)
With few hours left before the ceremony begins, I will now do a round of "Pre-TVB 39th Anniversary Awards Night" wrap-up…


Just Some Background Info:

The Anniversary Awards Ceremony to be taken place tonight (in HK time) in Hong Kong will mark the 10th year of TVB's awards presentation. Inspired by ATV's year-end awards, TVB decided to launch their own awards ceremony in 1997, giving recognition to actors and actresses, as well as background crew members that provide efforts to the ultimate success to TVB series. Since 1997, TVB awards have become a tradition, while creating yet another topic for Hong Kong (and overseas) fans to be excited about.


This year…

What's so special about this year's awards ceremony is that it is TVB's first ever stand alone anniversary awards ceremony ever, resulting in three different shows in celebrating TVB's anniversary this year. Is it a good thing or bad thing? Well...you never know...everything has to have a beginning...

As far as I know, there will be one performance on the awards night, which is a dance done by Kenneth Ma, Kenny Wong, Fala Chan, Sharon Luk, etc. As for the MC for the night, it will be Carol (Dodo) Cheng.

The results from paper voting are in, letting the temporary top 5 lists released throughout this week. The temporary top 5 are as follows (posting here again)…

credit: http://tvbchinesenews.blogspot.com/ and Apple Daily

TVB Best Actor Awards Top 5 -
1. Kevin Cheng - Under The Canopy Of Love
2. Adam Cheng - Bar Benders
3. Bowie Lam - The Dance Of Passion
4. Damain Lau - Men In Pain
5. Joe Ma - Maiden's Vow

TVB Best Actress Awards Top 5 -
1. Sheren Tang - La Femme Desperado
2. Ada Choi - The Dance Of Passion
3. Charmaine Sheh - The Dance Of Passion
4. Charmaine Sheh - Maiden's Vow
5. Myolie Wu - To Grow With Love

Top 5 Most Improved Actor Awards
1. Kenneth Ma - The Herbalist's Manual, La Femme Desparado, Love Guaranteed, To Grow With Love
2. Kevin Cheng - Under The Canopy Of Love, Trimming Success
3. Steven Ma - Safe Guards, Land Of Wealth
4. Sammul Chan - Bar Bender, Maiden's Vow
5. Michael Tse - La Femme Desperado

Top 5 Most Improved Actress Awards
1. Linda Chung - Always Ready, The Biter Bitten, Forensic Heroes
2. Selena Li - The Herbalist Manual, To Grow With Love
3. Tavia Yeung - A Pillow Case of Mystery, Land Of Wealth
4. Leila Tong - Bar Bender
5. Natalie Tong - Under The Canopy Of Love, Forensic Heroes, Most Important Is Health

Top 5 TVB Best Supporting Actor Awards
1. Wayne Lai - Safe Guards
2. Johnson Lee - Welcome To The House
3. Kenny Wong - The Dance Of Passion
4. Sammul Chan - Maiden's Vow
5. John Chiang - Land Of Wealth

Top 5 TVB Best Supporting Actress Awards
1. Shirley Yeung - Always Ready
2. Kingdom Yeun - Welcome To The House
3. Rebecca Chan - Men In Pain
4. Kiki Sheung - Maiden's Vow
5. Gigi Wong - To Grow With Love

Top 5 - Most Favorites Character For Actor Awards -
1. Steven Ma - Safe Guards
2. Adam Cheng - Bar Benders
3. Raymond Lam - La Femme Desperado
4. Bowie Lam - The Dance Of Passion
5. Joe Ma - Maiden's Vow

Top 5 - Most Favorites Character For Actress Awards -
1. Niki Chow - Under The Canopy Of Love
2. Sheren Tang - La Femme Desperado
3. Charmaine Sheh - The Dance Of Passion
4. Charmaine Sheh - Maiden's Vow
5. Myolie Wu - To Grow With Love

Top 5 - Best Host Awards -
1. Amigo Chui
2. Liza Wang
3. Sam Mei
4. Ronald Cheng
5. Adam Cheng


Something to keep in mind…

As TVB's panel of judges have authority to determine the final result, the temporary top 5 lists are not set in stone. The official top 5 for each category will be released short moment before the awards are given. So, if anyone is getting worried and angry about the top 5 lists, keep in mind that there are rooms of adjustments…


My Picks and Predictions

I meant to do a more in-depth analysis of my pick and predictions, but school has taken away my time that I can devote to otherwise. So now racing with the time, I will just give out a simple version of "My Picks and Predictions". Frankly speaking, I am never good as predicting awards...but...I'll just try my luck...

*NOTE: My Picks mean my personal choices if I am the final judge. My Predictions mean what I think TVB is going to do...

Best Actor:
My Pick: Joe Ma
My Prediction: Joe Ma or Bowie Lam

Best Actress:
My Pick: Charmaine Sheh or Myolie Wu (I tell you, from the start of the race, I am torn...b/c both of them are my favorite actresses...)
My Prediction: Charmaine Sheh

Best Supporting Actor:
My Pick: Wayne Lai
My Prediction: Wayne Lai

Best Supporting Actress:
My Pick: Gigi Wong
My Prediction: Gigi Wong or Kiki Sheung

My Favorite Actor Character:
My Pick: Raymond Lam
My Prediction: Bowie Lam or Joe Ma

My Favorite Actress Character:
My Pick: Myolie Wu
My Prediction: Myolie Wu

Most Improved Actor:
My Pick: Kenneth Ma
My Prediction: Kevin Cheng or Steven Ma

Most Improved Actress:
My Pick: Tavia Yeung
My Prediction: Linda Chung

Best Host/Hostess:
My Pick: Liza Wang
My Prediction: Sam Mei or Adam Cheng

Best Series:
My Pick: Forensic Heroes
My Prediction: La Femme Desperado

Best Variety:
My Pick: 15/16
My Prediction: Beautiful Cooking

Most Creative Show:
My Pick: Beautiful Cooking
My Prediction: Beautiful Cooking

Best Outsouce Programme:
My Pick: Inside the Forbidden City (why? b/c out of the entire list, I've only watched this show...)
My Prediction: The Savior of the Soul

Best Promotional Clip:
My Pick: To Grow with Love
My Prediction: To Grow with Love

These are just my views on this year's awards. I think most likely I am going to get all wrong on my prediction except a few...oh well...

Of course I'll update with the official result tomorrow...meanwhile, I'll just stay put and see how everything unwinds...GOOD LUCK TO ALL CONTESTANTS! (of course luck won't matter now...)

m_s =)


November 6, 2006

Yet another update on the 39th Anniversary...(UPDATED with additional top 5 lists!)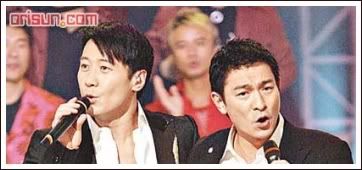 "Jade Singers Celebrate TVB Anniversary" has successfully taken place in Hong Kong on last Saturday night. Quite sad for me, the male singers (red team) picked up the victory this year. I guess Leon Lai's appearance helped push it a bit...By the way, Sidney has written a review about the show. Head over to her blog to read it: TVB Sidsation

I haven't watched the show yet myself, but hopefully I will have the chance soon...

And the next piece of news is from Kitson's blog: http://tvbchinesenews.blogspot.com/

News From: Apple Daily

Top 5 TVB Best Supporting Actor Awards
1. Wayne Lai - Safe Guards
2. Johnson Lee - Welcome To The House
3. Kenny Wong - The Dance Of Passion
4. Sammul Chan - Maiden's Vow
5. John Chiang - Land Of Wealth

Top 5 TVB Best Supporting Actress Awards
1. Shirley Yeung - Always Ready
2. Kingdom Yeun - Welcome To The House
3. Rebecca Chan - Men In Pain
4. Kiki Sheung - Maiden's Vow
5. Gigi Wong - To Grow With Love

Top 5 - Most Favorites Character For Actor Awards
1. Kevin Cheng - Under The Canopy Of Love
2. Steven Ma - Safe Guards
3. Adam Cheng - Bar Benders
4. Raymond Lam - La Femme Desperado
5. Bowie Lam - The Dance Of Passion
Not included: Bobby Au Yeung, Moses Chan and Michael Tse

Top 5 - Most Favorites Character For Actress Awards
1. Liza Wang - When Rules Turn Lose
2. Niki Chow - Under The Canopy Of Love
3. Charmaine Sheh - The Dance Of Passion
4. Charmaine Sheh - Maiden's Vow
5. Myolie Wu - To Grow With Love
Not included: Sheren Tang and Ada Choi

Top 5 - Best Host Awards
1. Amigo Chui
2. Liza Wang
3. Sam Mei
4. Ronald Cheng
5. Adam Cheng

TVB Best Actor Awards Top 5
1. Kevin Cheng - Under The Canopy Of Love
2. Adam Cheng - Bar Benders
3. Bowie Lam - the Dance Of Passion
4. Damain Lau - Men In Pain
5. Joe Ma - Maiden's Vow

TVB Best Actress Awards Top 5
1. Sheren Tang - La Femme Desperado
2. Ada Choi - The Dance Of Passion
3. Charmaine Sheh - The Dance Of Passion
4. Charmaine Sheh - Maiden's Vow
5. Myolie Wu - To Grow With Love

My Comments: Clips of the top 5 are all out at the official TVB website. As mentioned on those clips, these top 5 results are temporary. They might change when all results and decisions are factored into the equation. So, I basically don't think Charm is going to have two nominations for any award. But I hope that she will win...

By the way, the awards ceremony for 39th Anniversary is this Friday...and I am yet to post up my prediction and picks...oh well, school has taken most of my time...hopefully I will complete my mission before the date hits Friday...=)

m_s